Frequently Asked Questions
Pools can be down right complex, so here are some frequent questions we get from our customers.
What is the normal evaporation rate for a pool?
Expected Evaporation Rates:
Heated Pools – 1/4″ of water loss per day
Non-Heated Pools – 1/8″ of water loss per day
*Covering a heated pool will reduce the evaporation rate.
Factors of Evaporation:
Spring/Summer (April – September)
With consistent and frequent afternoon summer showers, the effects of evaporation should be minimal. In fact, we always advise that you should not have to fill your pool in the summer months. Myth Busted; hotter air does not play a factor in higher evaporation rates.
Fall/Winter (October – March)
As the temperature difference between water and air becomes more drastic and as humidity drops, evaporation rates spike. Nature is always trying to equalize itself and we see this happen in fall and winter months as steam arises from warmer bodies of water. Helpful Hint; Think dry sponge vs wet sponge and what one is more effective at soaking up water.
Key Points:
Temperature
Large differences between air and water temperature will cause evaporation rates to rise.
Humidity
Lower rates of humidity translate to dryer air and higher evaporation rates.
Fountains/Water Features
Waterfalls and extra features are a great pool enhancement, however they could be contributing to your water loss.
Exposure
Pools with full sun and wind exposure will lose the most water. Un-screened pools lose more water to evaporation than screened or covered pools.
Do I have to be home for the leak detection? How long does a leak detection take?
Due to the nature of our business, we do not need access to the interior of your home.
Provided with access to the pool cage and equipment area, we can complete the leak detection without you having to be home
and leave you a detailed invoice regarding the results. We value strong communication so you can also expect a follow-up call upon completion of your leak detection.
Note: We do need access to power and water to perform our leak detection properly.
The length of time to complete a full leak detection varies depending how many extra features a pool has, and any complication we encounter when locating a leak. Generally we recommend allowing for 1.5 – 3 hours to perform a full leak detection. 
Note: We will not leave a job site without completing every test possible to find a leak. If we do encounter a scenario where we must leave the job incomplete, we will develop and communicate a plan to complete any unfinished part of a job.
How do I know when you will arrive?
No pool is created equally, in fact we rarely come across that same pool. Due to the varying complexity of each pool we do not operate in the traditional time appointment model. We often cannot anticipate how long a job will take, and the technician will work through his/her daily schedule as they deem most efficient. You will always receive a phone call ahead of time as the technician travels to your home.
Note: We schedule one timed appointment each day for each technician. This is called an A.M Appointment and it will be the first stop in the technician's route. Our arrival time is anytime between 8:00 – 9:00 A.M. and this is the only guaranteed time appointment we have.
Why do you want my email?
We only ask for your email for 2 reasons;
1. We use it as an extra form of contact if we need to contact you regarding your appointment. This is used if we cannot contact via phone.
2. We also use Quickbooks to send invoices and will routinely send invoices upon request or if we were unable to leave an invoice at your property.
What if you don't find my leak?
Assuming there is a leak to find and we cannot locate a source for the leak, then we will not burden you with paying for our service.
Keep in mind, we are dedicated to finding the craziest of leaks, if it is an unusual leak and difficult to find, we will find it. We have a warranty period for this reason and will exhaust every effort and strategy to locate a leak.
Leak Detection / Repair Questions
What is included in the price?
In a word, everything. We have designed pricing to (hopefully) be as straightforward as possible. Our flat rate fees are for a full dive test and a complete pressure test of the pool plumbing. Our only exception is floor systems, and that is due to how complex some can be and how infrequent they actually leak. We include any patchwork and small repairs that are able to be performed during the technician's time at your pool. All construction repairs will receive a separate quote, and we will never proceed with a construction repair without explicit consent from the homeowner. We strive to always play cards face up, so if you have any further questions regarding pricing, give us a call! We would be glad to clear up any confusion.
What is a Floor System or Floor Jets?
Alternatively marketed as "Self-Cleaning Systems" by pool builders. They are designed to eliminate the need for consistent vacuuming of the pool by sweeping debris to the main drain. These systems add a lot more plumbing to the pool and require additional testing to properly test each jet back to the floor dome (the "brains"; or gear pack that controls the operation of the system as the pump operates).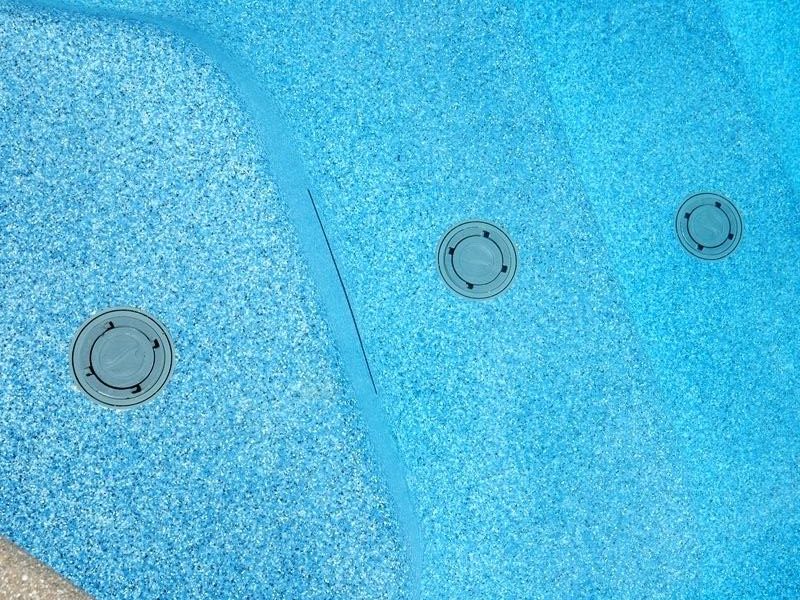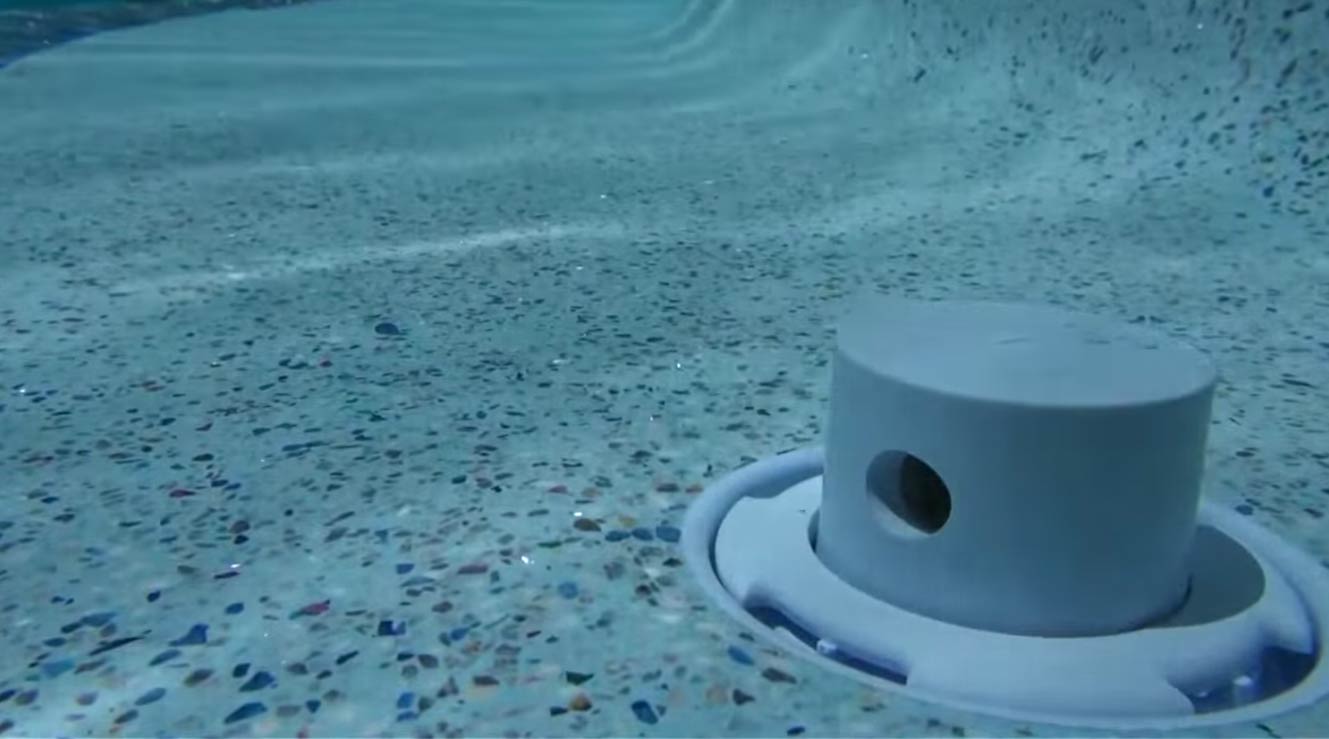 Do I have to drain my pool to patch a leak?
No, we use a unique two-part epoxy formulated for use underwater. We always recommend 24 hours without pool circulation for the epoxy to cure, however the standard set time in 70° water is 2 hours. Correctly applied epoxy will not shrink or sag once cured.
How do you know where an underground plumbing leak is?
We use specially designed equipment to listen underground for the leak. We take pride in our training and skills to consistently pinpoint leaks accurately.
Disclaimer: We are 100% human, we make mistakes. We cannot see underground and always anticipate unforeseen issues. We will always do everything within our power to resolve your leak with minimal scarring and impact to you.
Do you paint or texture the deck after the repair is complete
Upon completing the repair, our technician will perform the necessary finish work to attempt to minimize the scarring on the deck. We will texture the deck to match the surface around it. However, we will not paint. Matching an existing paint color is quite complicated and often can not be done to customer satisfaction without having the exact paint used originally.
Don't see a question that you have? Ask us by using the form below!